Get the kids involved this Easter with these cute Easter ideas!
Many families choose to celebrate the Easter holiday by cooking up a delicious dinner. But what about a yummy breakfast feast? You could even get creative and make it a brunch buffet. And what Easter breakfast would be complete without incorporating some adorable kid-friendly recipes for the little ones joining you at the table!
Make this an Easter meal to remember with these 7 tasty recipe ideas:
Apple Cinnamon Hot Cross Buns
Hot Cross Buns are traditionally eaten on Good Friday in the UK, New Zealand, Australia, Canada, Ireland and India and mark the end of Lent. The cross represents the crucifixion of Jesus and the spices inside the bun symbolize the spices used to anoint Him.
Ingredients
325 g raw caster sugar
1 lemon
1½ Granny Smith apples, unpeeled, cored, diced
1 cinnamon quill
750 g (5 cups) plain flour
150 g sultanas or golden raisins
50 g dried apple, diced
30 g candied orange, diced
14 g (2 sachets) dried yeast
3½ tsp ground cinnamon
½ tsp allspice
Finely grated rind of 1 orange and 1 lemon
380 ml milk
100 gm butter, coarsely chopped
1 egg
Instructions
1. Combine 260g sugar and 375ml water in a saucepan, then squeeze in juice of half a lemon and stir over medium-high heat until sugar dissolves. Meanwhile, cut remaining lemon half into 5mm-thick slices, add to pan with Granny Smith apple and cinnamon quill. Bring to the simmer, reduce heat to medium and cook until lemon and apple are translucent (20-25 minutes). Strain, reserving fruit and syrup separately. When cool enough to handle, dice lemon, combine with apple and set aside.
2. Combine 700g flour, sultanas, dried apple, candied orange, yeast, 3 tsp ground cinnamon, allspice, rinds, remaining sugar, reserved apple mixture and 1 tsp salt in a large bowl and make a well in the centre. Combine milk and butter in a small saucepan, warm over low heat until butter melts and mixture is lukewarm. Whisk in egg, then add milk mixture to flour, stirring to form a soft dough. Turn onto a lightly floured surface and knead until smooth and elastic (8-10 minutes). Place in a lightly buttered bowl, cover and stand in a warm place until doubled in size (30-40 minutes).
3. Knock back dough, divide into 20 even pieces, then knead each piece into a smooth ball. Arrange dough balls into two concentric circles on a large round or rectangular baking tray lined with baking paper, leaving 1cm between each for dough to expand. Cover with a tea towel and stand in a warm place until doubled in size (30-40 minutes).
4. Preheat oven to 220C. Combine remaining flour and 70ml cold water in a bowl and stir to a smooth paste. Spoon into a piping bag fitted with a small plain nozzle and pipe a cross shape onto each bun. Bake for 10 minutes, reduce oven to 200C and bake until golden and buns sound hollow when tapped (8-10 minutes).
5. Meanwhile, combine reserved syrup and remaining ground cinnamon in a small saucepan and stir over medium heat until syrupy and combined. Brush thickly over hot buns, then transfer to a wire rack to cool.
___________________________________________________________
Easter Bunny Pancakes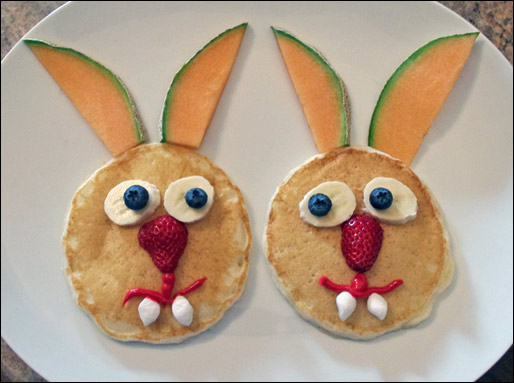 Recipe makes 1 serving
Ingredients
1 Five Star microwavable pancake
2 slices banana
2 blueberries
1 slice strawberry
jam or syrup
2 mini-marshmallows
2 thin slices cantaloupe or honeydew melon
Instructions
1. Place a pancake on a plate. Use the banana slices to make the eyes and the blueberries to make them blue.

2. Place a slice of strawberry for the nose. Using a small spoon and a gently touch, drizzle jam or syrup to make a mouth. You could also use cake icing. Lay down two mini marshmallows to act as teeth.

3. Finally, place the two slices of melon on top of the head (pancake) to act as the ears. Enjoy!
___________________________________________________________
Easter Egg Fruit Tart / Fruit Pizza
Ingredients
3¼ cups all-purpose flour
½ tsp salt
½ tsp baking soda
6 oz butter, at room temperature
11/2 cups granulated sugar
2 tbsp lemon zest (packed)
2 eggs, at room temperature
2 tbsp cream
2 tsp lemon extract
For the Frosting:
8 ounces cream cheese, at room temperature
⅓ cup firm strawberry jam, at room temperature
1-1½ cups powdered sugar
To Assemble:
8 cups assorted fresh fruit, washed and sliced
¼ cup apricot jelly or other clear, light-colored jelly
1 tbsp water
Instructions
In a small bowl, whisk together the flour, salt, and baking soda. Set aside for a moment.
Combine the butter, sugar, and lemon zest in the bowl of a large stand mixer fitted with a paddle attachment. Beat them together until light and fluffy, about 2 minutes. Add the eggs one at a time, beating well after each, then add the cream and lemon extract and mix them in.
Turn the mixer to low and add the dry ingredients, mixing until there are just a few flour streaks left. Stop the mixer and finish stirring everything together by hand, scraping the bottom and sides of the bowl well. Shape the dough into a large disc and wrap the dough in cling wrap. Refrigerate for several hours, until firm. Dough can be made several days in advance.
When the dough is firm, preheat the oven to 350 F and cover a large baking sheet with parchment. Roll out the dough between sheets of parchment or waxed paper until it is a large circle about ½-inch thick. (My egg was about 16x12 inches, but a circle should be in the 14-inch area.) You can make it ever thinner if you'd like—I prefer a thick, soft, cake-like cookie.
Transfer the cookie to the baking sheet, and bake it at 350 F for 15-19 minutes, until it takes on a light golden color and is puffed and set in the middle. Let it cool completely at room temperature. The cookie can be baked several days in advance.
Beat the cream cheese using a mixer until it is smooth and free of lumps. Add the strawberry jam and 1 cup of powdered sugar, and beat until everything is well-mixed. Taste the frosting, and add more sugar if desired. Remember that it will be combined with a cookie and fruit, so it doesn't have to be super-sweet on its own. Frosting can be made in advance and stored in the refrigerator for up to a week.
Spread the frosting in a thin, even layer over the surface of the cookie, leaving a small margin around the edges. Layer the fresh fruit over the frosting in the pattern of your choosing—don't' be afraid to play with colors and shapes!
In a small microwave-safe bowl, combine the jelly and water, and microwave for 30 seconds. Stir them together until the jelly is fluid and smooth. It should have the consistency of a thin gel—if it's still fairly thick, add a bit more water to thin it out. Use a pastry brush to pipe this glaze on top of your fruit. This gives it a lovely shine, and also prevents the cut fruit from looking wilted and tired at room temperature.
Cut the pizza into slices and enjoy! Store extras in an airtight container in the refrigerator.
If you want to save some time, you can use refrigerated sugar cookie dough, and canned cream cheese frosting (or other frosting of your choice.) After the fruit pizza is assembled the cookie tends to get softer, so this is a dessert that's best enjoyed the day it's made. The components can be made in advance, though, and kept for several days before you're ready to assemble the pizza.
___________________________________________________________
Bacon, Egg & Cheese Easter Baskets
1 can (8 oz) Pillsbury refrigerated crescent dinner rolls
6 eggs
8 tbsp (1/2 cup) shredded cheddar cheese
8 slices bacon
1.

Heat oven to 375°F. Spray 8 muffin cups with cooking spray.
2. Unroll 1 can (8 oz) Pillsbury™ refrigerated crescent dinner rolls; separate dough into 8 triangles. Place 1 triangle in muffin cup; press in cup to cover bottom and around side. Use scissors to cut off excess dough; use to fill in any spaces to create a seamless muffin cup. Repeat with remaining triangles.
3. In small bowl, beat 6 eggs with whisk. Add salt and pepper to taste. In large skillet, scramble eggs over medium-low heat, stirring constantly, until fluffy and just under done. Eggs should be shiny but not wet (they'll finish cooking in the oven).
4. Divide eggs evenly among dough-lined muffin cups. Top each with 1 tablespoon shredded Cheddar cheese.
5. Bake about 10 minutes or until cups are golden brown and cheese is melted.
6. Meanwhile, in another large skillet, cook 8 slices bacon over medium heat just until done but not crisp. Drain well on paper towels. While bacon is hot, fold it over like handle of basket. (Once bacon cools, it will become fragile and will not bend. It needs to cool in the rounded shape.)
7. Remove baskets from oven, cool in pan a few minutes. Remove from pan to serving platter. Place bacon "handles" on baskets, pressing ends of bacon into edges of baskets so they stand up. Serve immediately.
___________________________________________________________
Egg, Ham & Cheese Breakfast Pizza Peeps
1 tube thin crust pizza dough (or homemade dough)
6 eggs, scrambled
2-3 ounces diced ham
1 1/2 cups grated white cheddar cheese
2 jumbo black olives
Wilton Peeps Cookie Pan
Instructions
1. Preheat oven to 400 degrees Fahrenheit.
2. Unroll the pizza dough and lay it over the Peeps pan.
3. Cut the dough around the edge of the pan.
4. Bake for 8 minutes.
5. Remove from oven and top with ham and eggs.
6. Bake for 6-8 minutes until heated through.
7. Remove from oven and sprinkle grated cheese over top.
8. Slice jumbo olives and cut into 3 small circles.
9. Place the olive circles on your pizza to create two eyes and one nose.
10. Serve while hot.
___________________________________________________________
Easter Bunny Oatmeal
Oatmeal (any way you like it)
1. Make your oatmeal and spoon it in a small bowl.
3. Cut 2 thin slices from one half and place them on the top for eyes.
4. Cut the other half in half again length wise.
5. Press them in the top for ears.
6. Cut the tip off of a strawberry to make a nose.
7. Cut the raisins in half and place them under the nose for the mouth.
8. Cut out the teeth from the rest of the banana.
9. We also pulled off some of the banana from the peel to make whiskers.
___________________________________________________________
Easter Bunny Watermelon
Ingredients
1 oblong watermelon
Marker
1 small knife
Toothpicks
Blueberries for eyes
Strawberries & Blueberries (or other fruit of choice) to fill
Instructions
1. Using an oblong watermelon, cut a ¼ inch slice off the bottom to provide a stable base.
2. Draw lines with a sharp pencil or thin marker to draw ears and upper body on the top side of watermelon.
3. Cut along the lines and remove excess rind. Place to the side to use later for the whiskers and tail.
4. Hollow out the watermelon, being careful around the ears.
5. Carve six whiskers out of the excess rind with a small knife and trim off outer dark green rind so lighter green interior is showing.
6. With a melon baller cut out the eyes and nose and place the melonballs or blueberries in the holes. Use toothpicks to secure.
7. For the teeth, make a rectangular cut below the nose leaving the top part of the rectangle attached to the watermelon. Cut a small line down the middle to make two teeth.
8. With round toothpicks attach whiskers below the nose.
9. Fill with fruit.
Do you serve Easter Brunch at your house?
What are some of your favorite recipes?
Tell us about them here!